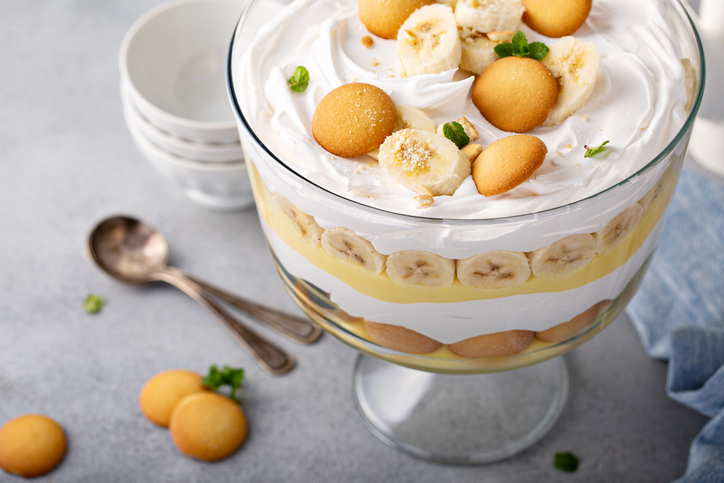 Comfort foods satisfy in so many ways. And when they're easy to make, they're even more enjoyable. Sometimes, you want something sweet and creamy that won't take forever to put together. Fortunately, this homemade banana pudding recipe meets all those qualifications. Try whipping up this beloved dessert and prepare to share it with anyone who tastes it.

Ingredients You'll Need
Of course, this recipe's first and most important ingredient is bananas. Start with four ripe bananas. The peels should be yellow with some brown spots. Then, gather these ingredients:
4 tablespoons of flour
1 whole egg
¾ cup of sugar
3 cups of milk
1/8 teaspoon of salt
4 egg yolks (and save the whites from these eggs for your meringue)
1 teaspoon of vanilla extract
45-50 vanilla wafers for the crust
And to make the meringue, you'll need those four egg whites and ¼ cup of sugar.
How to Make Your Banana Pudding
While you preheat your oven to 400°F, grease a 13″ by 9″ casserole dish. Then, assemble your pudding by mixing the milk, one whole egg (yolk and white), flour, sugar, and salt. Once you have mixed these, add the four egg yolks and mix them in. Next, cook this pudding mixture over medium-low heat for 10-15 minutes until it thickens. But make sure you stir it often while it cooks.
Now, get ready to make your crust. Layer those vanilla wafers across the bottom and sides of your dish. When your pudding has thickened up, slice two bananas over the wafer layer. They won't have time to brown before you pour the pudding in. Pour half of the pudding mixture on the bananas, then follow by slicing the other two bananas. Finish by pouring the second half of the pudding over the second banana layer.
Making Your Meringue Topping
Banana pudding is great with whipped topping, but a meringue on top gives it that old-fashioned flavor. Use a large bowl to whip the four egg whites until you see stiff peaks forming. Then, add the sugar and mix it in. Of course, the next step is to transfer all that fluffy meringue onto your waiting banana pudding. Finally, bake this delightful dessert for 8-10 minutes until the meringue becomes a lovely golden brown.
You might also like: 5 Spring Activities To Enjoy
Your New Favorite Homemade Pudding
Of course, you can eat your fresh banana pudding while it's still warm. However, if you let it cool and refrigerate it, it will firm up a bit more. Both ways are tasty. And you can make the pudding ahead of time. In fact, you can make the pudding part the day before. Just wait to make the meringue on the day you plan to serve, or it might get soggy.
Disclaimer: The stock image is being used for illustrative purposes only, and it is not a direct representation of the business, recipe, or activity listed. Any person depicted in the stock image is a model.