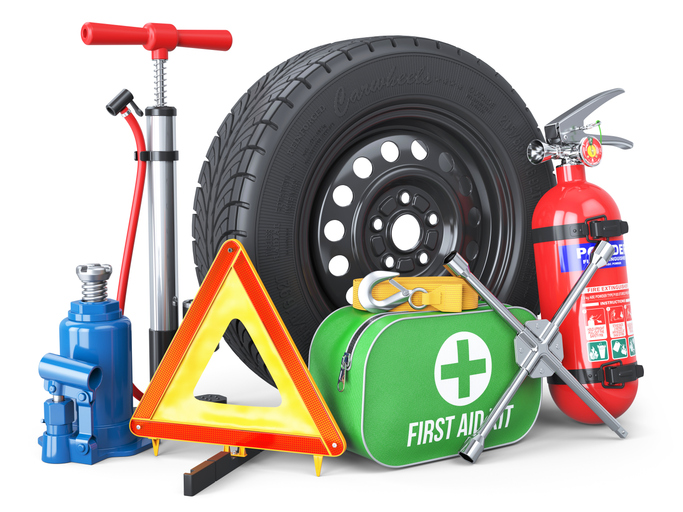 For safety purposes, you should keep an emergency kit in your vehicle during the winter months. And you'll want to do this in the summer as well. After all, you never know when you might face a challenging situation.

Regardless of where you live, an emergency kit can come in handy in multiple situations. However, if you live in a region with extremely hot temperatures, it becomes even more important. Here are some ideas of the types of things you'll need. You can store them in a plastic tub with a secure lid for convenience.
Emergency Flares
You'll need some kind of visibility equipment, such as flares or a reflective hazard warning sign. For flares, you can choose the standard type that you light or a battery-operated LED kind. Either way, that will make it easier for approaching drivers to see your car on the side of the road.
Bottled Water
Bottled water does have an expiration date, but it will stay fresh in your car for months. Especially when it's hot outside, make sure you have a way to stay hydrated.
Nonperishable Snacks
In addition, add some nonperishable snacks to your emergency kit. Include things like nuts, beef jerky, dried fruit, packets of tuna, granola bars, and so on.
Blanket
You might think it sounds odd to include a blanket in your summer emergency kit. Not only will it keep you warm in the winter, but it will also shield you from the sun in the summer. Even better, select one made with reflective material.
First-Aid Kit
Having a first-aid kit in your vehicle is always a good idea. Choose one that comes with gauze, Band-aids, antibiotic cream, over-the-counter pain medication, and medical adhesive tape. You can always add additional items, such as tweezers, a tourniquet, and more.
Tool Kit
You don't need to go overboard with the tools you keep in your vehicle. Even so, you should add a pair of pliers, a wrench, and both duct tape and electrical tape. In addition, add a Phillip's and flathead screwdriver.
Jumper Cables
For both winter and summer, you need to have jumper cables in your car. To make it easier for you to jump-start other cars and vice versa, buy one that is at least 25 feet long.
Flashlight and Batteries
Choose a flashlight designed with several features. Along with powerful illumination, buy one with either white or red blinking lights. That way, you can get someone's attention if you end up stuck in your vehicle, and it's not visible from the road. Also, be sure you have extra batteries in your kit.
Phone Charger
It never hurts to put a second or even third charger for your phone in your summer emergency kit. Today, you can buy these for less than $20.
Tire Gauge and Sealant
Even if you just had new tires put on your car, you will still benefit by having a pressure gauge and a can of sealant on hand. They can prevent a flat if you happen to run over a nail, screw, or some other sharp object.
You might also like: Enjoy The Baked Goods At The Continental Bakery
Enjoy Your Summertime Driving
When driving around in your vehicle, you don't want to worry that something could go wrong. Instead, you want to enjoy the beautiful scenery and sunny skies. Your summer emergency kit will provide peace of mind. Also, if you drive an older automobile, you could talk to an expert at Brannon Honda in Birmingham, Alabama, about trading it in and getting a new set of wheels.
Disclaimer: The stock image is being used for illustrative purposes only, and it is not a direct representation of the business, recipe, or activity listed. Any person depicted in the stock image is a model.