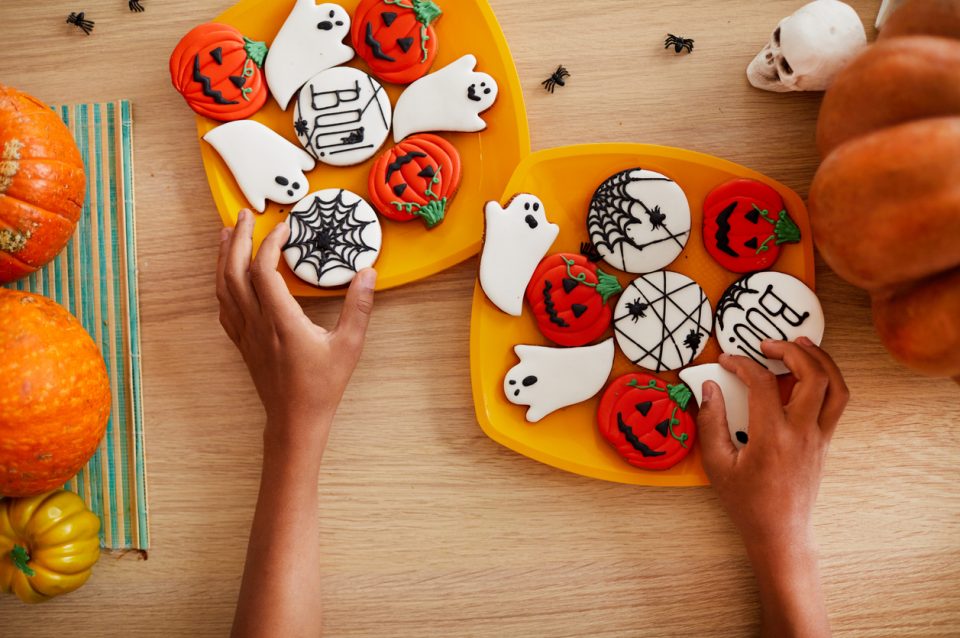 During the month of October, there's one thing on every kids' mind – Halloween. Fortunately, the holiday doesn't come until the very end of the month. This means that you have the entire month to plan a Halloween-themed party, find the perfect costume, and of course, get some tasty goodies for trick-or-treating. For those of you who plan on holding a Halloween party, why not add a bit of excitement to your party by preparing spooky Halloween-themed snacks as well! Your guests are certain to love them. Keep reading to learn more about unique and fun Halloween-themed snack ideas!
Ghost Pizza Bagels!
Preparing Ghost Pizza Bagels is extremely easy and a lot of fun! Here are the ingredients you'll need:
8 slices of mozzarella
4 black olives
½ cup marinara
8 mini bagels
First of all, you'll want to preheat the oven to 350 degrees. Then, cut the mozzarella slices into ghost shapes using a knife. Spread a layer of marinara over the bagel and place the mozzarella ghost on top. Simply bake until the cheese is melted, usually for only about 10 minutes or so. In the meantime, cut the olives into tiny pieces to use as eyes for the ghosts. Dot the eyes for the ghosts and then you're ready to serve an easy, spooky treat!
You might also like: Useful Generator Accessories
Graveyard Chocolate Mousse Pots!
With the Graveyard Chocolate Mousse Pots, you can certainly get creative. You'll need the following ingredients:
Chocolate icing (2 tablespoons of coconut oil, 2 tablespoons of cocoa powder, 1 tablespoon of agave nectar, 1 teaspoon of vanilla extract)
Tombstone cookies (175 g of 1/34 cup ground almonds, 1 tablespoon vanilla extract, 1 tablespoon poppy seeds, zest of 1 medium lemon, 1 tablespoon arrowroot powder, 2 tablespoon coconut oil, 2 tablespoon agave nectar)
Once you have all of your ingredients, you're ready to get baking! For the cookies, be sure to preheat the oven to 350 degrees and line a baking sheet with paper. Then, mix together the ground almonds, arrowroot powder, and coconut oil. Make sure ingredients are evenly distributed. Then, mix in the rest of the ingredients and place the dough out onto a board, then roll. Once the dough is 1.4 inches thick, use a small cutting knife to cut out tombstone shapes. Let bake for 5-8 minutes until golden brown around the edges.
For the icing, you'll need to melt the coconut oil over a bowl of hot water. Afterward, stir in the cocoa powder, vanilla extract, and agave. Let cool in the fridge for just a few minutes. Then, move the chocolate to an icing bag with a narrow nozzle so you can write "RIP" on the tombstones. To assemble, simply stand the tombstone cookies on top of the mouse pots (the chocolate mousse).
As you can see, there are a variety of ways to keep things spooky this Halloween, all while having a bit of fun!