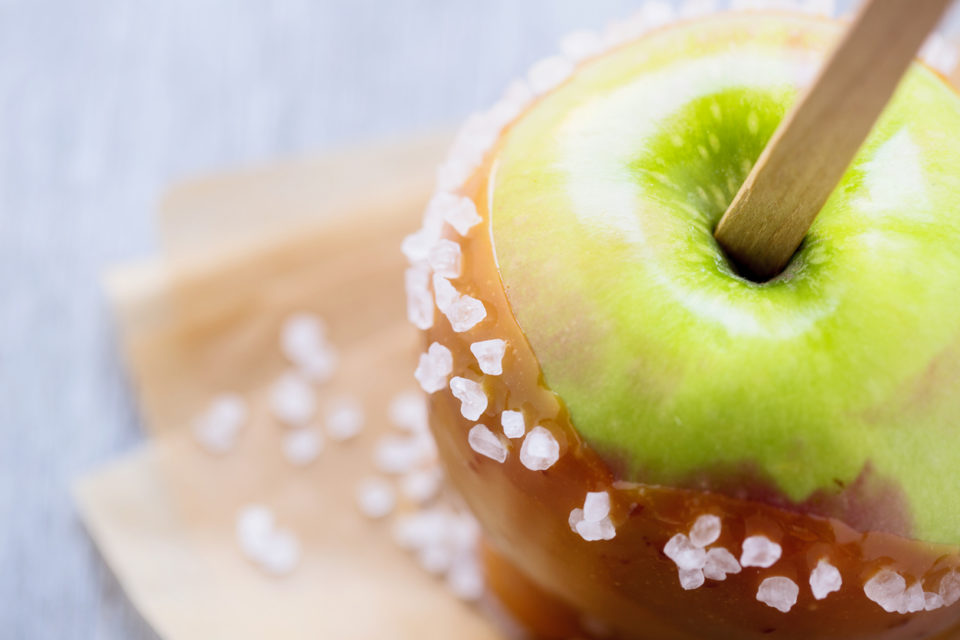 If you absolutely love apple-based desserts, then you're in luck! We've gathered inspiration from TasteOfHome.com to deliver some apple dessert recipes you are going to love. 

Caramel Apples
It's a classic apple dessert recipe and also popular with the kids. Here are the ingredients you need: 1 cup butter, 2 cups packed brown sugar, 1 cup light corn syrup, 1 can (14 ounces) sweetened condensed milk, 1 teaspoon vanilla extract, 8 wooden sticks, 8 medium tart apples, unsalted and chopped peanuts. 
Here are your prep instructions pulled verbatim from TasteOfHome.com:
"In a heavy 3-qt. saucepan, combine butter, brown sugar, corn syrup and milk; bring to a boil over medium-high heat. Cook and stir until mixture reaches 248° (firm-ball stage) on a candy thermometer, about 30-40 minutes. Remove from the heat; stir in vanilla. Insert wooden sticks into apples. Dip each apple into hot caramel mixture; turn to coat. Set on waxed paper to cool. If desired, roll the bottom of the dipped apples into chopped peanuts."
Apple Peanut Butter Cookies
If you and your family love cookies – then this recipe is definitely for you. You'll need the following ingredients to make it: ½ cup shortening, ½ cup chunky peanut butter, ½ cup sugar, ½ cup packed brown sugar, 1 large egg, ½ teaspoon vanilla extract, 1.5 cups all-purpose flour, ½ teaspoon baking soda, ½ teaspoon salt, ½ teaspoon ground cinnamon, ½ cup grated and peeled apple. 
Ready to start? Here are the easy two-step instructions from TasteOfHome.com:
Step 1 – Preheat oven to 375 degrees. In a large bowl, cream the shortening, peanut butter, and sugars until light and fluffy, 5-7 minutes. Beat in egg and vanilla. Combine dry ingredients; gradually add to creamed mixture and mix well. Stir in apple.
Step 2 – Drop by rounded tablespoonfuls 2 in. apart onto greased baking sheets. Bake until golden brown, 10-12 minutes. Cool for 5 minutes before removing to wire racks.
You might also like: Satisfy Your Sweet Tooth With These Fall Cookie Recipes
Brannon Honda
If you're looking for a sure-fire recipe for shopping success, then visit Brannon Honda. We have a great selection of new and used vehicles to choose from no matter what day of the week you shop.