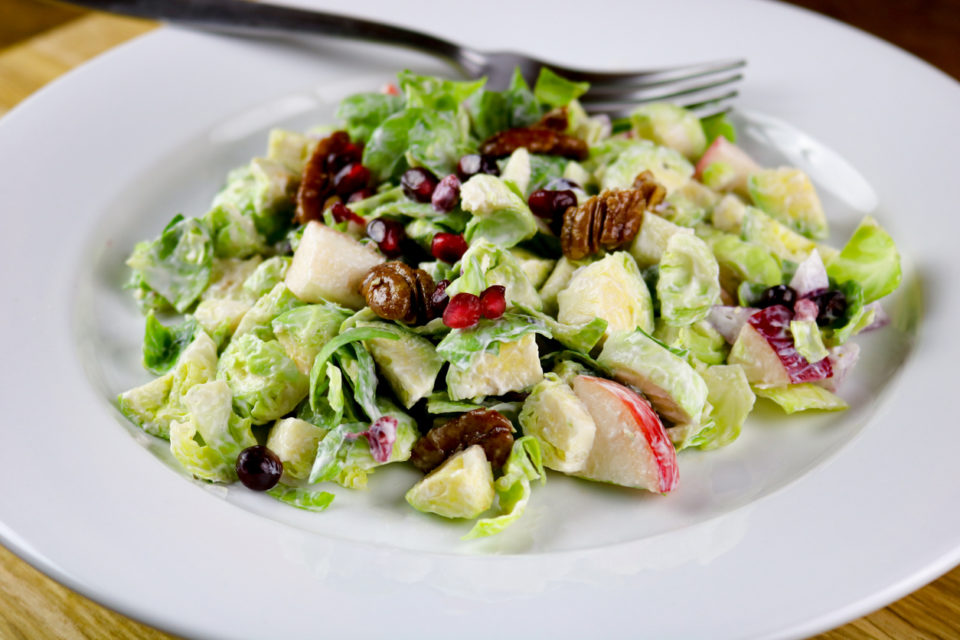 When you think of cold weather, your mind probably doesn't immediately jump to salads. But, there are a select few ingredients that thrive in the wintertime and would make an incredible addition to your meal. We found some recipes that include cold-weather favorites, and we hope you'll give them a try. Let us know your favorite! These would work well as a side, or as the whole meal. It's up to you.

For those days when you want something super crisp and sharp, we introduce to you this Parmesan Brussels Sprouts Salad. This light, delicious, and nutritious salad features fresh additives such as Brussels sprouts, almonds, pomegranate seeds, and fresh shaved Parmesan. It doesn't get any fresher than this, folks. Would make a perfect dinner with the addition of a protein such as chicken.
Who knew two packets of Ramen noodles could yield such a colorful, delicious salad? Chances are you already have these lying around, so put them to good use with a Ramen Noodle Salad. Once you have secured the star of the show, all you need to gather is almonds, red and green cabbage, green onions, a carrot, Mandarin oranges, and an avocado. This one covers all of your bases; creamy, crunchy, delicious. And best of all, it's super simple to make.
Picture this; dried cherries, a slice of juicy apple, crumbled feta, and a crunchy almond all in one bite. All of those toppings lie comfortably on top of a bed of kale. The tanginess of the cheese contrasts nicely with the sweetness of the cherries, which also contrasts well with the crunchiness of the nuts and the apple. On top of taste, the texture in this salad is out of this world. Pair it on the side of a steak dinner or as the appetizer to a delicious pasta. It's delicious and filling and packs a huge punch in terms of flavor.