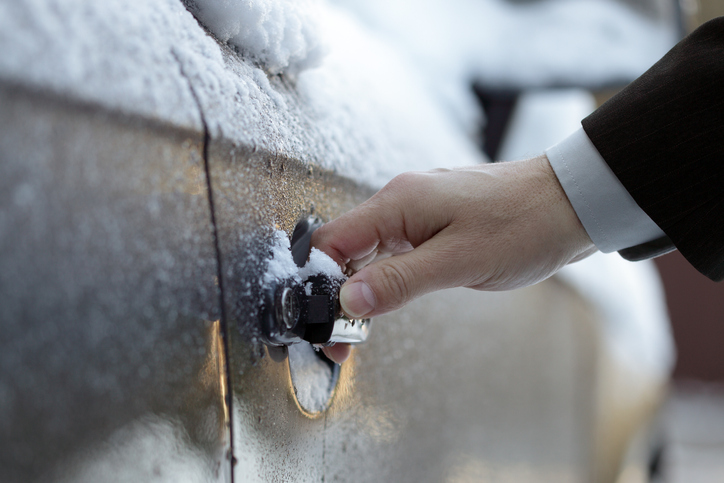 When winter temperatures drop below zero, car door locks can freeze, especially after snow or sleet. The last thing you want is for the key to break off. These tips will show you how to deal with a frozen car lock.

Use Isopropyl Alcohol
Isopropyl alcohol contains deicing properties similar to salt. However, you never want to use salt on a frozen car lock. The small granules would clog it. As a result, you'd need to have an entirely new locking mechanism installed.
Although isopropyl alcohol isn't the same as rubbing alcohol found in most homes, it's readily available at grocery and retail stores. Apply a small amount of the alcohol directly on the frozen door. Not only will it help unfreeze the door itself, but also the lock. Don't worry about it damaging the paint since it evaporates quickly.
Try Vinegar
Like isopropyl alcohol, vinegar has a melting point lower than water. Therefore, it also works well to unfreeze vehicle door locks. For this, mix three parts of vinegar and one part of water. Pour the mixture into a spray bottle. Then squirt it on the lock.
Before using this method, there are a few important things to know. If you accidentally spray the window glass, the vinegar could cause it to turn yellow. In addition, you shouldn't use this method more than twice. That's because frequent use can damage the paint.
Buy a Quality Deicer
A commercial deicer is another way to unfreeze car door locks. They're sold at auto parts stores, groceries, and online. Most deicers contain calcium chloride. That means they have a lower melting point than water. In addition, this chemical absorbs water molecules. For that reason, it'll unfreeze a lock and prevent refreezing.
Especially if you're in a high-risk area for frozen door locks, buying a product to keep in your vehicle is a good idea. That way, you'll have access to it at any time. The goal is to purchase a trusted brand that won't harm your car's windows or paint.
Use an Old-fashioned Ice Scraper
You can use a sharp edge of an ice scraper to clean the seams of the doors. However, an ice scraper may not work on a frozen door lock. It all depends on how deep the frozen water goes inside. If it's more on the surface, again, you can use the scraper to remove enough ice so you can insert the key.
Use Heat
If you have access to electricity, you can use heat to unfreeze the car door lock. One important note – never use hot water. For one thing, it won't take long for the water to freeze when it's brutally cold outside. For another, there's a risk of damaging the electronic components of the lock. In other words, hot water will make the situation worse.
A much better solution is to use a standard blow dryer. Set the blow dryer to medium heat and keep it about an inch or two away from the lock. Even then, you don't want the lock to become hot. Rather, you want to warm it just enough to melt the ice. Usually, this only takes a few minutes.
You might also like: Grab A Ladle For This Creamy Chicken Noodle Soup
Prepare for the Winter
It's always a good idea to keep an emergency kit in your vehicle during winter. As part of that, include a deicer, an ice scraper, a spray bottle, and a small bottle of isopropyl alcohol and vinegar. However, to avoid this problem, contact Brannon Honda in Birmingham, Alabama, about buying a new or newer car.
Disclaimer: The stock image is being used for illustrative purposes only, and it is not a direct representation of the business, recipe, or activity listed. Any person depicted in the stock image is a model.