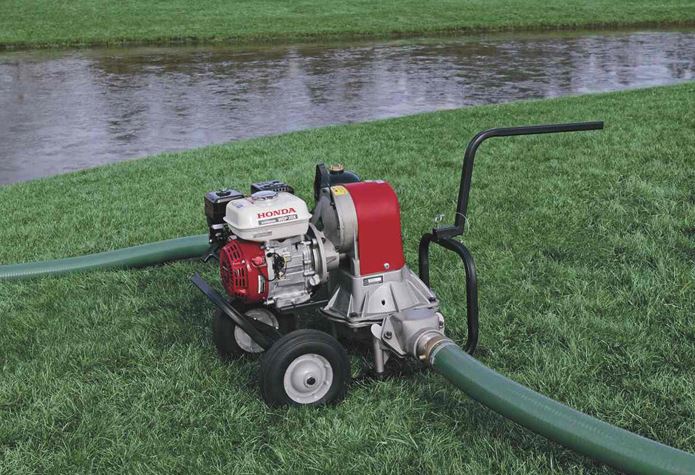 Everyone uses a water pump and it is best to use a Honda water pump. De-watering is becoming more of an essential for all types of reasons. A water pump is the heart of any water supply system. Every house has to have one; a residential water pump is used to help residents complete routine tasks. Recreational, industrial, and firefighting are uses that are also essential for the way our world operates today and affects millions, if not billions daily.

Residential Water Use
We take showers and baths in bathroom. The washer is used to wash clothes in the laundry room/mat. We use the sink to wash dishes in the sink. We even use sprinkling systems for our garden/lawns. Honda knows this and offers lightweight general-purpose water pumps for your convenience. Honda's WX10 Water Pumps are perfect for homeowners, boat owners, gardeners, and other lightweight users. It weighs only 13 pounds and is easily portable.
Business Water Use
To keep a business running, having a consistent water supply is one of the most important functions for that will allow that to happen. Most government legislation request that businesses to install and maintain a decent water supply system, appropriate water tank level for firefighting, and many other requirements. A Honda water pump will not only meet, but will also exceed those requirements.
When it comes to firefighting, two of the most important tools are fire extinguishers and water supplied hydrant. Water sprinklers are also very well needed and takes quite a bit of overhead to keep and high-powered pump to even be effective. If not, just imagine if a fire were to occur and that water sprinklers did not work. The outcome could be tragic simply because not enough water was able to cover the building due to use of an inferior water pump. Honda's WH series water pumps won't let you or your building down. These high-powered pumps are lightweight, compact, and even portable for pumping over long distances.
Industrial Water Use
Honda also offers trash pumps to handle moving waste using water that moves up to 433 gallons per minutes. These pumps are excellent for rental applications and contractors. Like any other Honda water pump, these trash pumps are durable and offer long service life due to being easy to clean out and maintain.
Do you have a slow seepage situation? Honda has their WDP30 diaphragm pump for you! It helps keep your condition dry. The low volume pump pumps water greater than 25% volume and can pump mud, trash, and more.
Whether it's at home or at work, a water pump is the core for a well ran establishment. Honda water pumps are the best pumps that you can rely on that are durable. Who else can you depend on? Brannon Honda. At our Birmingham dealership, we can help you with any of your water pump needs. So, come by and see us today!